Self-cleaning Water Filter
Description
JX Self-cleaning Water Filter can be manufactured by SS304, SS316 or SS316L. It is ideal for after-coolers, heat exchangers, pump seal water, cooling towers, quench towers, boiler feed water, raw water supplies and seawater treatment.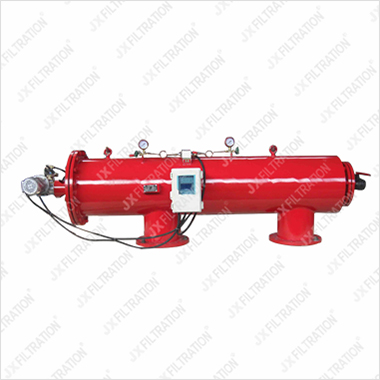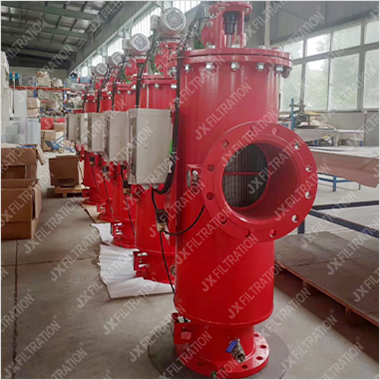 Self-cleaning water filter saves users money on water, energy, maintenance and equipment replacement. They are often referred to as automatic self-cleaning strainers because, unlike many systems, the technology requires no routine maintenance.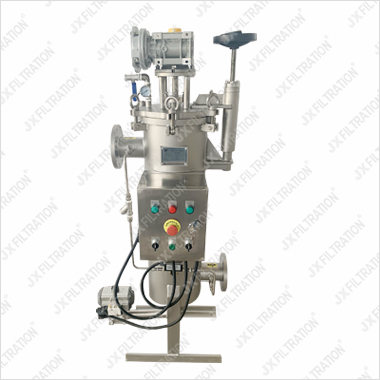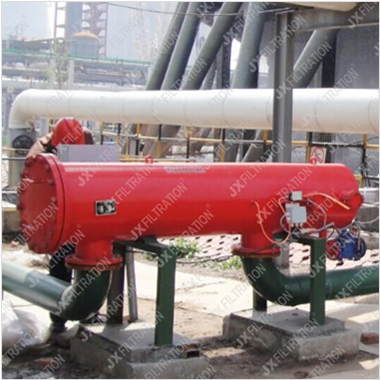 Best Factory, Best Product. Contact Now !!!
Working Principle
Dirty water enters the self-cleaning filter inlet and is directed to the inside of a group of specially designed semi-permanent porous filtration elements. The water passes through the filter elements and out of the self-cleaning filter as Clear Clean Water. Any particulate larger than the filter element pore rating is left trapped inside the filter element. The self-cleaning filter elements are then periodically cleaned when a preset time or differential pressure is reached. When the self-cleaning cycle is initiated, a series of air-operated valves are automatically activated, redirecting a portion of the clean water stream back through the porous filter elements in a reverse flow. The reverse flow flushes the accumulated debris to the back-flush drain and cleans the element. The cycle is repeated until all mechanical filter elements are cleaned and the operating cycle begins again. Less than 1% of the total filter flow is used in the backwash cycle.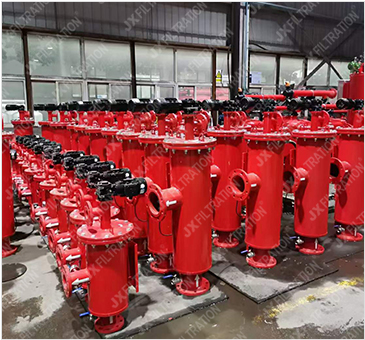 Advantages
Anti-corrosion and high temperature resistance.
Standard flange and connections to adapt to any production site.
Continuous filtration: no interruption of the production process.
High standard wedge wire filter element with accurate precision and long service life.
Fully enclosed design and automatic operation mean virtually no operator intervention of materials contact.
Application
Water Treatment
Industrial
Process Cooling
Chilled Water
Irrigation
Pre-filtration of seawater
Self-cleaning Water Filter
Related Product
Self-cleaning Water Filter
Our Service
Professional Pre-sale
Service

Filtration method and
equipment recommendation

Free CAD or 3D
drawing provided

Free phone call

Complete Service
During Sales

On time delivery


Equipment inspection
by photo or video

Secure and standard
package provided
After Sales Service


Installation assist by
phone call or video

Free accessories provide
for maintenance

Engineer sent for
solving onsite problem
Self-cleaning Water Filter
FAQ
Where is your factory?
We have three factories in Sichuan, Hebei, Jiangsu. Because the difference of customer locations, raw material price, factory wages and other considerations. In this way, we can provide the best quality product with lower cost.
Do you have a certification?
Yes. we have ISO/CE/BV/SGS/TUV certificate and patent certificate.
How about the delivery time?
Usually 1-15 days after prepayment is confirmed.
Do you have a design team?
Yes, we have. Providing drawing, electric drawing and others.
What is your payment?
T/T, L/C, Western Union, Paypal.
Can you provide certificate of origin?
yes, we can provide CO as well as FORM E, FOEM F and etc.
Can you accept OEM?
Yes, we could do OEM for you.
Can you send me a sample?
Yes.1-3 days for delivery.