Automatic Brush Filter FS Series
No human intervention is required ideal for the production line.
Large treatment capacity up to 5000m3/h.
High anti-corrosive and explosion-proof standard.
No need to change the filter element for over 10 years.
Large effective filtration area and small pressure loss.
Automatic Brush Filter FS Series
Description
JX Brush Filter FS Series is equipped with multiple filtering and cleaning devices, when water enters from the filter inlet and enters the inside of each filter cartridge. It comprises the drive motor, actuator, electric controller, control pipeline, filter body, coarse filter element, fine filter element, inlet, outlet connection flange, and other main parts.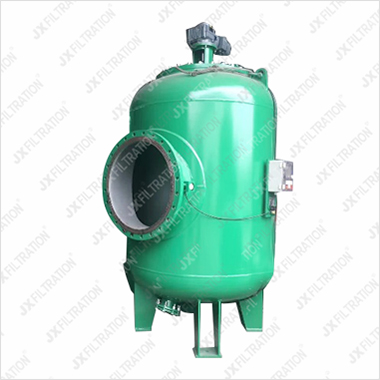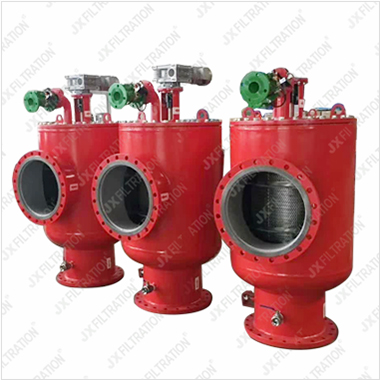 The FS series is widely used in water treatment, paper-making, petroleum, bio-pharmaceuticals, printing ink, grease, food and beverage, etc. Compared with other filters, the equipment has high degree of automation and a larger capacity.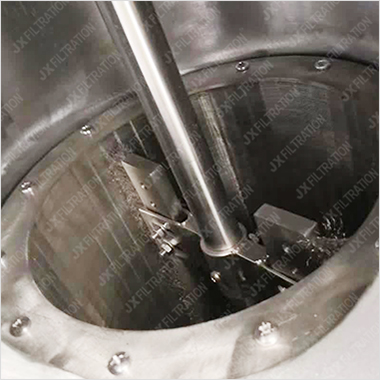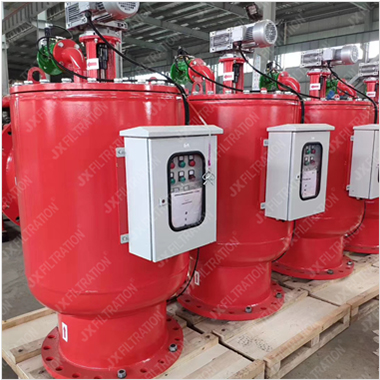 Best Factory, Best Product. Contact Now !!!
Working Principle
The water flows through the screen, and the particles are retained on the screen of the filter element. The filtered water flows out through the outlet. When the inlet and outlet's differential pressure reaches the preset value, the filter will start the self-cleaning process. The whole self-cleaning process contains two steps: open the drain valve on the filter's end cover. The motor drives the two stainless steel brushes in the filter mesh, then the impurities captured by the filter mesh will be brushed down by the steel brush and discharged from the drain valve. The whole cleaning process takes about 15 to 60 seconds. During this time, the filtration system does not stop, and a control box controls the entire operation process.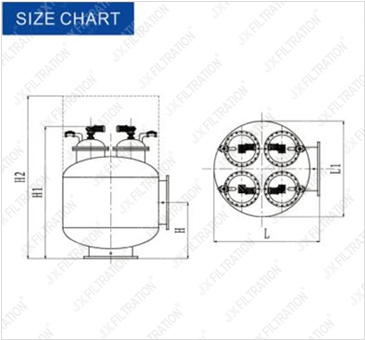 Advantages
Stainless steel brush, good impurity removing performance, avoid impurities extruding and breaking.
Easy to disassemble and cleaning and the maintenance costs are very low.
Various control methods: such as manual, pressure difference, time and PLC.
Low water consumption for sewage discharge, no more than 1% of the total flow.
The connection method with the user pipeline is flange connection. The flange adopts the international standard flange with high versatility.
Technical Parameters
Model
Connection
L
(mm)
L1
(mm)
H
(mm)
H1
(mm)
H2
(mm)
Drain
outlet
(mm)
Flow
(m3/h)
Weight
(kg)
JXFS-600
600
1985
1600
880
2210
3250
60
2650
2365
JXFS-700
700
1985
1600
975
2386
3340
65
3580
2855
JXFS-800
800
2145
1800
1053
2490
3690
80
5000
3310
JXFS-900
900
2145
1800
1255
2698
3900
80
640
4220
Application
Water Treatment
Petrochemical
Metallurgy
Electric Power
Chemical
Paint & Printing Ink
Paper
Food & Beverage
Pharmaceutical
Metal Processing Industries, etc.
Automatic Brush Filter FS Series
Related Product
Automatic Brush Filter FS Series
Our Service
Professional Pre-sale
Service

Filtration method and
equipment recommendation

Free CAD or 3D
drawing provided

Free phone call

Complete Service
During Sales

On time delivery


Equipment inspection
by photo or video

Secure and standard
package provided
After Sales Service


Installation assist by
phone call or video

Free accessories provide
for maintenance

Engineer sent for
solving onsite problem
Automatic Brush Filter FS Series
FAQ
Where is your factory?
We have three factories in Sichuan, Hebei, Jiangsu. Because the difference of customer locations, raw material price, factory wages and other considerations. In this way, we can provide the best quality product with lower cost.
Do you have a certification?
Yes. we have ISO/CE/BV/SGS/TUV certificate and patent certificate.
How about the delivery time?
Usually 1-15 days after prepayment is confirmed.
Do you have a design team?
Yes, we have. Providing drawing, electric drawing and others.
What is your payment?
T/T, L/C, Western Union, Paypal.
Can you provide certificate of origin?
yes, we can provide CO as well as FORM E, FOEM F and etc.
Can you accept OEM?
Yes, we could do OEM for you.
Can you send me a sample?
Yes.1-3 days for delivery.