Scraper Filter
Best choice for treating viscous liquid.
Fully automatic operation and continuous filtration.
High standard sealing to prevent leakage of hazardous materials.
Discharged liquid has high impurity concentration and can be recycled.
Simple structure: the scraper and screen mesh are easy to disassemble and clean.
Scraper Filter
Description
Scraper type self-cleaning filter is the ideal choice of filtering liquid with high viscosity, high corrosion, and high pressure.
It is widely applied in filtering solvents, acid-alkali, polymer, coating adhesive materials, etc. It has higher efficiency and precision of range 30-1500 microns. It can filter liquid viscosity up to 800000 centipoises.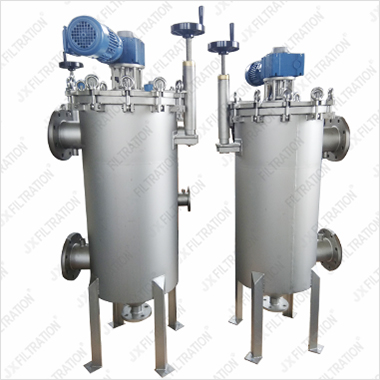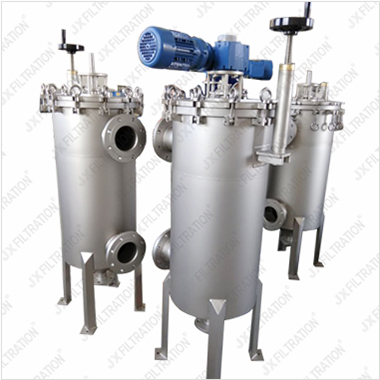 The scraper type self-cleaning filter operates fully automatically. The high filtration precision, stable, and reliable performance makes it an efficient choice to replace a traditional manual filter or dumping type material filter. It can replace the conventional cartridge filters, bag filters, basket filters, and vibrating screen filters in many areas.
Note: Inner-scraper: scraper is inside the filtering element; outer-scraper: scraper is outside the filtering part.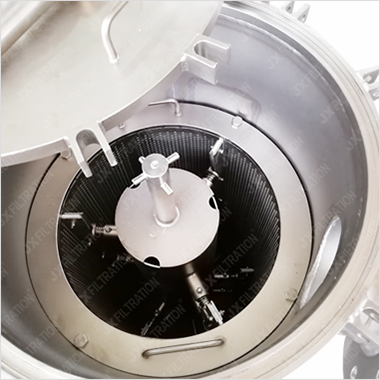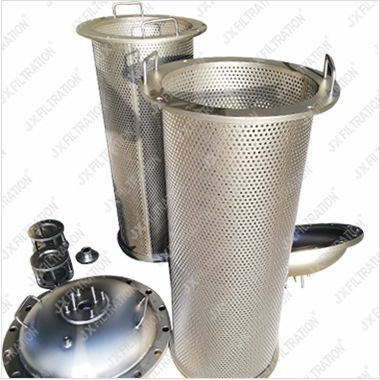 Best Factory, Best Product. Contact Now !!!
Working Principle
Scraper self-cleaning filter's operation principle is very simple: Install the filter screen ② in a stainless steel cylindrical shell①. When unfiltered liquid flows into the shell from the inlet ③, solid impurities were leached and deposited on the screen's inner surface. Filtered fluid flows out from the outlet ④. When the filter screen needs cleaning (depending on the time, pressure differential, or manually choose), a clean dish tightened with spring scrapes the mesh inside the surface back and forth continuously and removes solid material deposition. When the debris is separated from the filter screen gap, the wash dish will send the dirt into the bottom of shell ⑥ and be discharged through the flow channel⑦.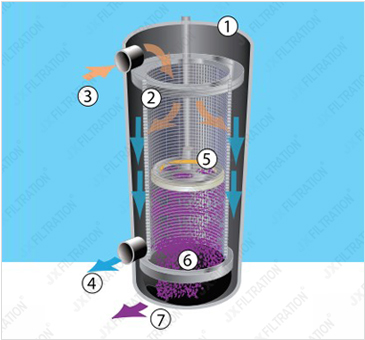 Material of Construct
Housing
Carbon steel, SS304/316/316L
Filter Element
SS304/316/316L
Driveshaft Seal
PTFE Teflon (suitable for all kinds of solvent, acid, or alkali liquid, the highest temperature: 230℃)
NBR acrylic rubber (applicable to most of the neutral and oil liquid, the highest temperature: 120℃ )
VITON fluorine rubber (resistant to acid and alkaline liquid and the majority of solvent, the highest temperature: 230℃)
Sealing Ring
EPDM
Scraper
SF (super water-resistant composite material)
SS (wear-resistant stainless steel)
Tripod
SS304
Technical Parameters
Model
Pipe Diameter
(mm)
Flow Rate
(m3/h)
Flow Area
(m2)
Drain Valve
(mm)
Filtration Rating
(mm)
Motor Power
(KW)
JXS2-273
80
50
0.25
25
0.01-5
0.55
JXS2-325
100
150
0.35
25
0.01-5
0.55
JXS2-426
200
300
0.66
50
0.01-5
0.55
JXS2-530
250
500
1.0
50
0.01-5
0.55
JXS2-630
300
700
1.2
80
0.01-5
0.75
JXS2-720
350
1100
1.5
80
0.01-5
0.75
JXS2-820
400
1500
1.8
80
0.01-5
0.75
JXS2-920
450
1700
2
80
0.01-5
0.75
Application
Water Treatment
Petrochemical
Metallurgy
Electric Power
Chemical
Paint & Printing Ink
Paper
Food & Beverage
Pharmaceutical
Metal Processing Industries, etc.
Scraper Filter
Related Product
Scraper Filter
Our Service
Professional Pre-sale
Service

Filtration method and
equipment recommendation

Free CAD or 3D
drawing provided

Free phone call

Complete Service
During Sales

On time delivery


Equipment inspection
by photo or video

Secure and standard
package provided
After Sales Service


Installation assist by
phone call or video

Free accessories provide
for maintenance

Engineer sent for
solving onsite problem
Scraper Filter
FAQ
Where is your factory?
We have three factories in Sichuan, Hebei, Jiangsu. Because the difference of customer locations, raw material price, factory wages and other considerations. In this way, we can provide the best quality product with lower cost.
Do you have a certification?
Yes. we have ISO/CE/BV/SGS/TUV certificate and patent certificate.
How about the delivery time?
Usually 1-15 days after prepayment is confirmed.
Do you have a design team?
Yes, we have. Providing drawing, electric drawing and others.
What is your payment?
T/T, L/C, Western Union, Paypal.
Can you provide certificate of origin?
yes, we can provide CO as well as FORM E, FOEM F and etc.
Can you accept OEM?
Yes, we could do OEM for you.
Can you send me a sample?
Yes.1-3 days for delivery.