Automatic Backwash Filter
Description
JX Automatic Backwash Filter provides fully automatic backwashing cleaning operations, and it can continuously separate impurities from water and other liquids. The maintenance and operation of this kind of filter are effortless. Even in severe operating conditions, it also can continue to keep running in good condition.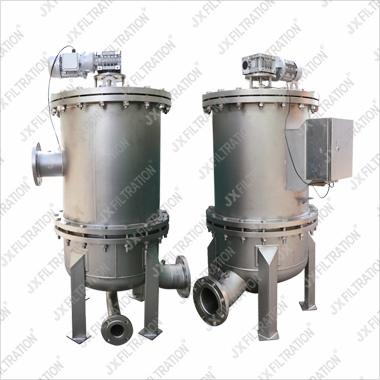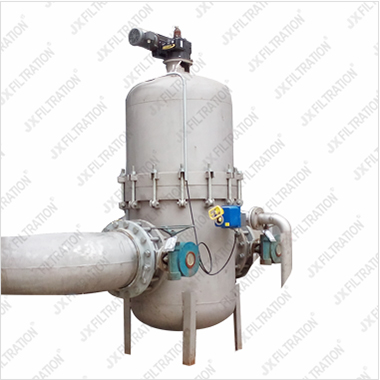 It can be equipped with different amounts of elements to provide maximum filtering area in each filter housing, making the filter have the smallest pressure loss when working. The filter body's pressure design is usually based on the chemical pipeline filter and steel pressure vessel design standards. The filter also can adapt to the particular requirements of other design criteria.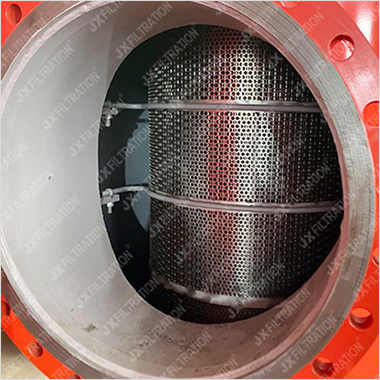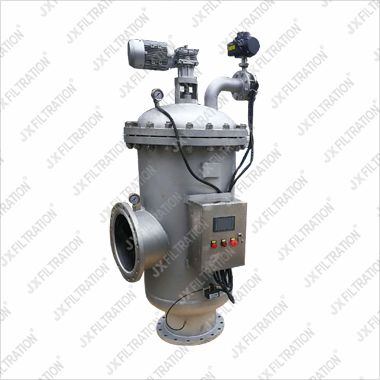 Best Factory, Best Product. Contact Now !!!
Working Principle
The water that needs to be filtered flows into the shell through the lower bottom of the filter and enters the filter element's lumen through the rotary table from bottom to top, and drained out through the filter element. The filtered clean water flows out from the upper outlet of the filter. Solid impurities are trapped in the filter element's inner side—no need to cut off the water flow when the filter is in the backwashing process. The motor drives the filter wheel to rotate, and at the same time, the drain valve was opened. The filtered clean water will backwash each filter element in turns. The pressure difference between the water pressure in the filter and the atmospheric pressure can reversely make filtration liquid flow. The intercept impurity on the inner face of the filter element can be removed. After the wheel rotates around, the backwashing process is over. Then the backwashing valve closed, and the drive motor stops.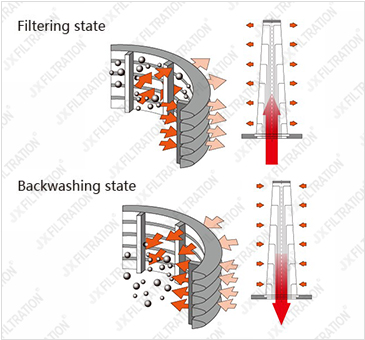 Advantages
Suitable for high-speed, large-flow, low-viscosity liquid filtration.
Compact structure covering small installation area.
Wedge wire filter element: long service life over 10 years.
The backwash time can be automatically controlled. Each filter cartridge is backwashing in turn.
The filter has few vulnerable parts, no consumables, and low operation and maintenance costs.
Technical Parameters
| | |
| --- | --- |
| Flow Rate(m3/h) | 1-5000 |
| Filter Rating (um) | 25-3000 |
| Working Pressure | 0-10 |
| Valve | Motor or Pneumatic |
| Filtration Standard | GB150, HG/T21637/ASME |
| Filter Element MOC | SS304/316 Hastelloy |
| Valve MOC | CS, SS304/316 Hastelloy |
| Seal MOC | Buna-N, EPDM, Fluorous rubber |
Model
Inlet/outlet
Drain
Flow Rate at 100um
(m3/h)
Motor Power
(KW)
XF-F-300
DN100
DN40
180
0.37
XF-F-400
DN150
DN40
290
0.37
XF-F-500
DN200
DN40
420
0.37
XF-F-600
DN250
DN50
620
0.55
XF-F-700
DN300
DN50
730
0.55
XF-F-700
DN350
DN50
1230
0.55
XF-F-800
DN350
DN50
940
0.55
XF-F-800
DN400
DN80
1400
0.55
XF-F-900
DN400
DN80
1600
0.55
XF-F-900
DN450
DN80
1900
0.55
XF-F-1000
DN450
DN80
2070
0.55
Application
Water and wastewater
Pulp and paper
Chemicals
Petrochemical
Iron and steel
Nonferrous metal
Plastic extrusion
Machine coolant filtration
Engineering, etc.
Automatic Backwash Filter
Related Product
Automatic Backwash Filter
Our Service
Professional Pre-sale
Service

Filtration method and
equipment recommendation

Free CAD or 3D
drawing provided

Free phone call

Complete Service
During Sales

On time delivery


Equipment inspection
by photo or video

Secure and standard
package provided
After Sales Service


Installation assist by
phone call or video

Free accessories provide
for maintenance

Engineer sent for
solving onsite problem
Automatic Backwash Filter
FAQ
Where is your factory?
We have three factories in Sichuan, Hebei, Jiangsu. Because the difference of customer locations, raw material price, factory wages and other considerations. In this way, we can provide the best quality product with lower cost.
Do you have a certification?
Yes. we have ISO/CE/BV/SGS/TUV certificate and patent certificate.
How about the delivery time?
Usually 1-15 days after prepayment is confirmed.
Do you have a design team?
Yes, we have. Providing drawing, electric drawing and others.
What is your payment?
T/T, L/C, Western Union, Paypal.
Can you provide certificate of origin?
yes, we can provide CO as well as FORM E, FOEM F and etc.
Can you accept OEM?
Yes, we could do OEM for you.
Can you send me a sample?
Yes.1-3 days for delivery.