Hydraulic Filter AF-800 Series
Designed for treatment capacity: 50-1000m3/h.
Technical parameters could be preset to meet requirements.
All dimensions (including connection size) can be customized.
Uninterrupted water supply during cleaning.
High filtration precision: 25-4000um available.
Hydraulic Filter AF-800 Series
Description
JX Hydraulic Filter AF-800 Series can remove suspended solids from 25 to 4000 microns. The automatic flushing method is based on pressure-differential/ time/PLC and could remove both organic (algae, slime, floating debris) as well as sand, grit and inorganic particles to a fine micron level.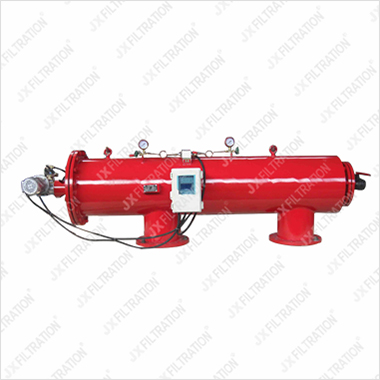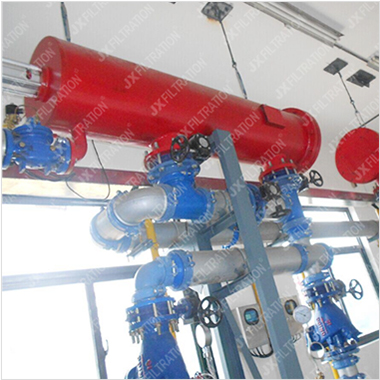 It can be manufactured by SS304/ SS316/ SS316L/ Duplex 2207 etc. to achieve the anti-corrosive effect. The cleaning method is simple, and the cleaning cycle is monitored, which can realize automatic cleaning and sewage discharge.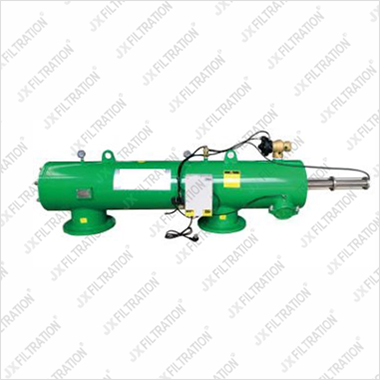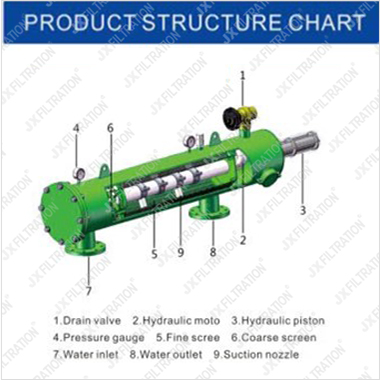 Best Factory, Best Product. Contact Now !!!
Working Principle
The raw liquid flows through the screen, and the particles retain on the screen of the filter element. Filtered water flows out through the outlet.
The self-cleaning mode can be started by pressing, timing, or manual three ways, following the pressure difference principle.
When the internal and external pressure difference (ΔP) reaches the set value, the self-cleaning mode starts. Drainpipe hydraulic valve open, sucking the scanner to produce negative pressure suction nozzle inside, absorbing impurities, and sucking scanner in under hydraulic motor along the inside surface mesh do reciprocating screw, movement, no cleaning blind area, impurities by the discharge outlet.
The controller sets the cleaning time of the self-cleaning filter in advance. The drain valve is closed after cleaning, and little water loss in the cleaning process.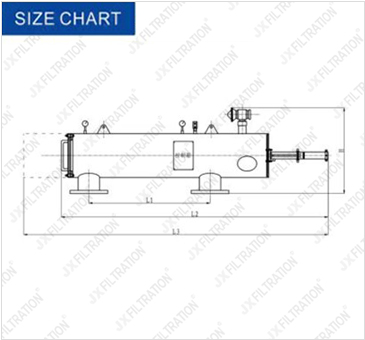 Advantages
Compact designs allow flexibility in installation.
It has an excellent effect on various viscous substances, colloidal particles, and mud sand in the water
The filter body is welded by stainless steel with high intensity, and the service life is 25 years.
No need to stop the machine for backwashing. Realize backwashing while filtering.
Low water consumption for sewage discharge, no more than 1% of the total flow.
The filter elements and other main components are easy to install and disassemble.
Technical Parameters
Model
Connection
Screen area
(cm2)
D1
(mm)
L
(mm)
L1
(mm)
L2
(mm)
L3
(mm)
H
(mm)
Flow
(m3/h)
Weight
(kg)
JXAF-803LOPR
80
320
273
450
1141
1575
2075
555
50
140
JXAF-804LOPR
100
5780
273
900
1505
1935
2735
555
100
170
JXAF-806LOPR
150
5780
325
900
1505
2275
2735
625
150
183
JXAF-806XLP
150
8410
273
900
1841
2115
3471
555
160
205
JXAF-808PR
200
5780
325
900
1685
2515
2915
625
250
195
JXAF-808LOPR
200
8410
325
900
2085
2315
3715
625
300
235
JXAF-810PR
250
8090
426
900
1885
2515
3515
726
350
250
JXAF-810LOPR
250
8410
377
900
2085
3155
3715
677
400
270
JXAF-810XLP
250
11710
426
1100
2725
3155
4755
7336
450
430
JXAF-812PR
300
11710
426
1100
2725
3155
4755
736
600
435
JXAF-814PR
350
12990
480
1270
2725
3155
4755
810
1000
455
JXAF-816PR
400
12990
480
1270
2725
3155
4755
810
1200
480
JXAF-816XLP
400
17020
630
1270
2725
3155
4755
1010
1500
680
Application
Water Treatment
Industrial
Process Cooling
Chilled Water
Irrigation
Pre-filtration of seawater
Hydraulic Filter AF-800 Series
Related Product
Hydraulic Filter AF-800 Series
Our Service
Professional Pre-sale
Service

Filtration method and
equipment recommendation

Free CAD or 3D
drawing provided

Free phone call

Complete Service
During Sales

On time delivery


Equipment inspection
by photo or video

Secure and standard
package provided
After Sales Service


Installation assist by
phone call or video

Free accessories provide
for maintenance

Engineer sent for
solving onsite problem
Hydraulic Filter AF-800 Series
FAQ
Where is your factory?
We have three factories in Sichuan, Hebei, Jiangsu. Because the difference of customer locations, raw material price, factory wages and other considerations. In this way, we can provide the best quality product with lower cost.
Do you have a certification?
Yes. we have ISO/CE/BV/SGS/TUV certificate and patent certificate.
How about the delivery time?
Usually 1-15 days after prepayment is confirmed.
Do you have a design team?
Yes, we have. Providing drawing, electric drawing and others.
What is your payment?
T/T, L/C, Western Union, Paypal.
Can you provide certificate of origin?
yes, we can provide CO as well as FORM E, FOEM F and etc.
Can you accept OEM?
Yes, we could do OEM for you.
Can you send me a sample?
Yes.1-3 days for delivery.