Multi-Bag Filter Housing
Maximum 38 bags with 1000m3/h treatment capacity.
Convenient to replace the filter bag, and the filter is free of cleaning.
Can bear high working pressure with small pressure loss.
The filter precision can reach 0.5μm.
Over 50000 sets sold each year.
Multi-Bag Filter Housing
Description
The multi-bag filter housing is one of JX Filtration leading products containing maximum 38 bags with the largest treatment capacity. It has a large filtering area, small filtering resistance and high filtering efficiency.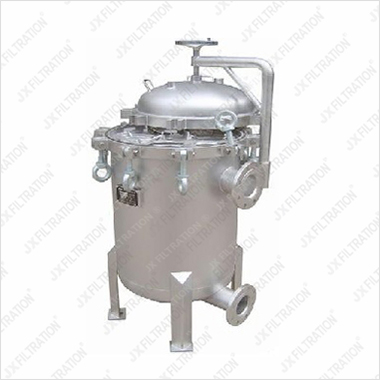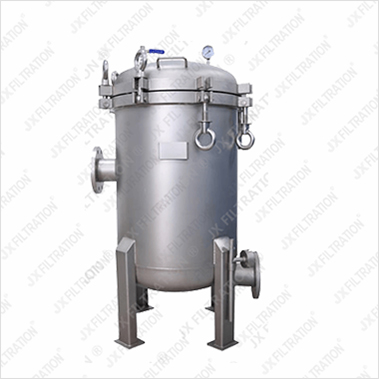 The multi-bag filter is suitable for any occasions to replace the filter bag after a long time. The traditional multi-bag filter is difficult to operate due to its large volume and heavy top cover. However, the quick-opening design from JX Filtration can solve this problem and reduce labor costs.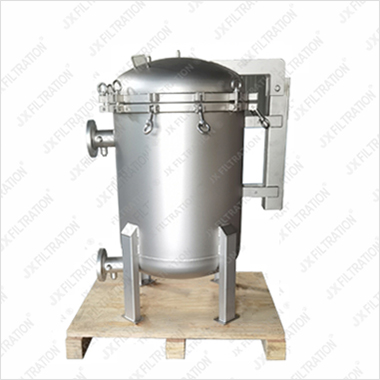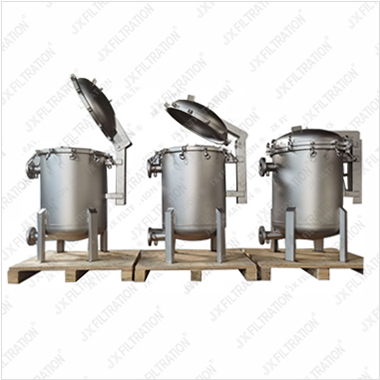 Best Factory, Best Product. Contact Now !!!
Working Principle
The bag filter is mainly composed of three parts: filter container, support basket and filter bag.
When the bag filter is used to filter liquid, the liquid enters from the filter container's side or bottom, and it is flushed into the filter bag from the top of the filter bag supported by the basket. The filter bag expands due to the liquid's impact and the uniform pressure surface, which makes the liquid material evenly distributed on the filter bag's inner surface.

The liquid passing through the filter bag is discharged from the liquid outlet at the bottom of the filter along the metal supporting basket wall. The filtered particulate impurities are trapped in the filter bag to complete the filtration process.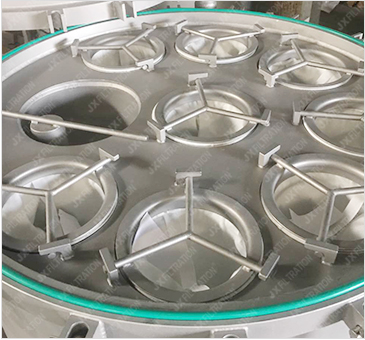 Technical Parameters
Mode
Bag
Qty
Filtering
Area
(㎡)
Max
Flow
(t/h)
Inlet/
Outlet
Connection
Working
Pressure
(Mpa)
Housing
Dia.
(mm)
Overall
Height
(mm)
Housing
Height
(mm)
JXMBFH-3
3
1.5
105
DN80
0.5
508
1592
1190
JXMBFH-4
4
2
140
DN100
0.5
558
1632
1244
JXMBFH-6
6
3
210
DN150
0.5
658
1854
1300
JXMBFH-8
8
4
280
DN150
0.5
760
1922
1404
JXMBFH-10
10
5
350
DN200
0.5
910
2004
1430
JXMBFH-12
12
6
420
DN200
0.5
962
2064
1460
JXMBFH-14
14
7
490
DN200
0.5
1012
2124
1490
JXMBFH-16
16
8
560
DN250
0.5
1112
2146
1512
JXMBFH-18
18
9
630
DN250
0.5
1162
2225
1595
JXMBFH-20
20
10
700
DN250
0.5
1212
2280
1640
JXMBFH-22
22
11
770
DN250
0.5
1366
2320
1694
JXMBFH-24
24
12
840
DN300
0.5
1416
2358
1748
Free Drawings, Customize Service Available. Contact Now !!!
Advantages
The side leakage rate of the filter bag is low, which virtually guarantees the filtering quality.
Larger treatment capacity, filter bags can be frequently replaced.
Surface treatment: sandblasting, mirror polishing, electrolyte polishing.
Suitable for any fine particles or suspended solids, filtration precision 0.5um-1000um optional.
Various inlet/outlet methods and connection types can be customized.
The material of the equipment can be selected from stainless steel SS304, 316L, carbon steel, etc., according to the material and the.
environment. The jacket can be installed if heat preservation is required.
Application
Automotive industry
Copper foil
Electronics industry
Fine chemicals
Paper industry
Food and medicine
Coatings
Petrochemicals
Multi-Bag Filter Housing
Related Product
Multi-Bag Filter Housing
Our Service
Professional Pre-sale
Service

Filtration method and
equipment recommendation

Free CAD or 3D
drawing provided

Free phone call

Complete Service
During Sales

On time delivery


Equipment inspection
by photo or video

Secure and standard
package provided
After Sales Service


Installation assist by
phone call or video

Free accessories provide
for maintenance

Engineer sent for
solving onsite problem
Multi-Bag Filter Housing
FAQ
Where is your factory?
We have three factories in Sichuan, Hebei, Jiangsu. Because the difference of customer locations, raw material price, factory wages and other considerations. In this way, we can provide the best quality product with lower cost.
Do you have a certification?
Yes. we have ISO/CE/BV/SGS/TUV certificate and patent certificate.
How about the delivery time?
Usually 1-15 days after prepayment is confirmed.
Do you have a design team?
Yes, we have. Providing drawing, electric drawing and others.
What is your payment?
T/T, L/C, Western Union, Paypal.
Can you provide certificate of origin?
yes, we can provide CO as well as FORM E, FOEM F and etc.
Can you accept OEM?
Yes, we could do OEM for you.
Can you send me a sample?
Yes.1-3 days for delivery.