Jacketed Bag Filter Housing
Two layers design to maintain the temperature of the material.
Temperature and corrosion resistance.
Quick opening mechanism to facilitate the quick replacement of filter bags.
Jacket material: Q235, SS304, SS316, etc.
Insulation medium: steam, heat transfer oil, hot water, and hot exhaust gas can be selected.
Jacketed Bag Filter Housing
Description
The Jacketed bag filter housing has double layers. There is an external layer outside the housing. And with a layer inlet and an outlet is equipped on the outer layer, steam, water, and conduction oil can be introduced.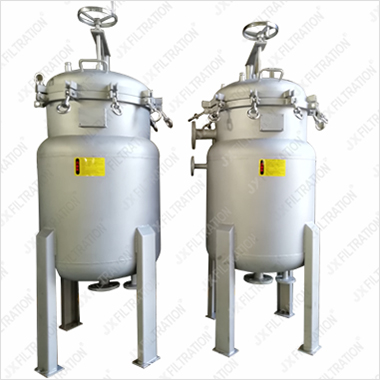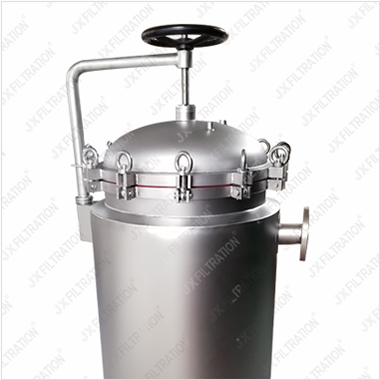 In this way, this filter can keep or increase the liquid temperature to protect it from crystallization or solidification and improve the filter speed of viscous liquid. And it also can meet the temperature requirement in the next process. The jacketed bag filter can be customized per the customer's working condition.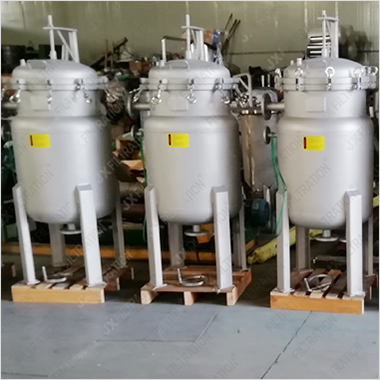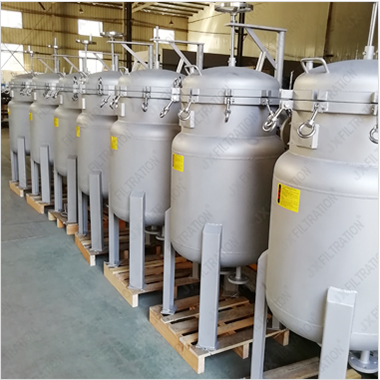 Best Factory, Best Product. Contact Now !!!
Working Principle
The Jacketed bag filter has two layers to treat high temperature and viscosity liquid. Different kinds of filter bags will filter the raw liquid's impurities after entering the chamber by gravity effect. The filter bags need to clean or replace after using many times. The filtered clean liquid will discharge through the outlet pipe.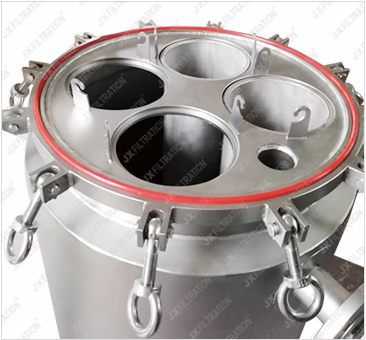 Technical Parameters
Model
Bag
Qty
Filtering
Area
(㎡)
Max
Flow
(t/h)
Inlet/
Outlet
Heating
Inlet/
Outlet
Housing
Dia.
(mm)
Overall
Height
(mm)
Housing
Height
(mm)
JBF4
4
2
140
DN100
DN25
558
1632
1244
JBF6
6
3
210
DN150
DN25
658
1854
1300
JBF8
8
4
280
DN150
DN25
760
1922
1404
JBF12
12
6
420
DN200
DN32
962
2064
1460
JBF16
16
8
560
DN250
DN32
1112
2146
1512
JBF20
20
10
700
DN250
DN32
1212
2280
1640
JBF22
22
11
770
DN250
DN32
1366
2320
1694
JBF24
24
12
840
DN300
DN32
1416
2358
1748
Advantages
High heat exchange efficiency, excellent insulation performance can ensure good fluidity of materials.
The jacket itself has an inlet and outlet, circulated by adding hot water or steam.
Suitable for filtration of low-temperature environment or high viscosity material.
The sealing material can be customized according to the chemical compatibility of filtration material and sealing.
The quick opening mechanism to facilitate the quick replacement of filter bags.
Application
Pre-filtration or ultra-filtration in the chemical industry food & beverage industry, and the pharmaceutical industry. It can realize steam heating or condensing cooling for viscous material or the material that need thermal insulation.
Jacketed Bag Filter Housing
Related Product
Jacketed Bag Filter Housing
Our Service
Professional Pre-sale
Service

Filtration method and
equipment recommendation

Free CAD or 3D
drawing provided

Free phone call

Complete Service
During Sales

On time delivery


Equipment inspection
by photo or video

Secure and standard
package provided
After Sales Service


Installation assist by
phone call or video

Free accessories provide
for maintenance

Engineer sent for
solving onsite problem
Jacketed Bag Filter Housing
FAQ
Where is your factory?
We have three factories in Sichuan, Hebei, Jiangsu. Because the difference of customer locations, raw material price, factory wages and other considerations. In this way, we can provide the best quality product with lower cost.
Do you have a certification?
Yes. we have ISO/CE/BV/SGS/TUV certificate and patent certificate.
How about the delivery time?
Usually 1-15 days after prepayment is confirmed.
Do you have a design team?
Yes, we have. Providing drawing, electric drawing and others.
What is your payment?
T/T, L/C, Western Union, Paypal.
Can you provide certificate of origin?
yes, we can provide CO as well as FORM E, FOEM F and etc.
Can you accept OEM?
Yes, we could do OEM for you.
Can you send me a sample?
Yes.1-3 days for delivery.