PP Bag Filter Housing
Description
The PP bag filter housing has all-plastic cylinder and accessories, using PVDF, PPH, PPR and other anticorrosive plastic materials, capable of high temperature, high concentration of hydrochloric acid, sulfuric acid, aqua regia and other strong acid and alkali chemical material filtration.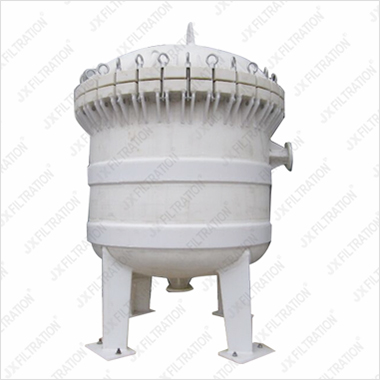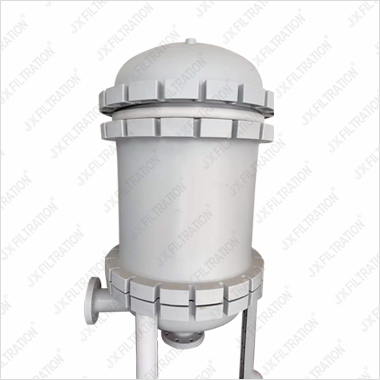 The molding housing making the cylinder body without any welded joints can prevent liquid from crystallizing and facilitate manual cleaning. Contains anti-ultraviolet materials to make it durable and suitable for use in various climates. Each link part has a leak-proof design to prevent internal leakage of the barrel and meet the requirements of precision filtration.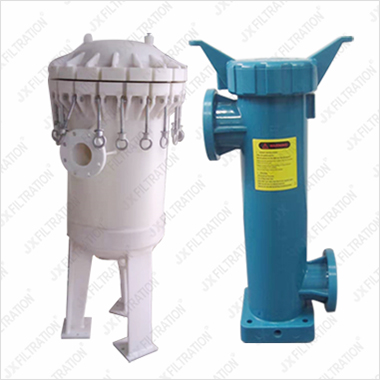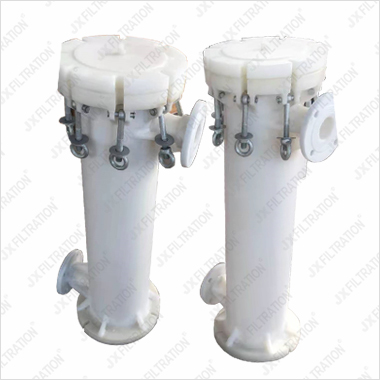 Best Factory, Best Product. Contact Now !!!
Working Principle
Process liquid enters filter housing from the inlet into the filter bag, particles larger than the filtration aperture are blocked on the surface or inside the filter bag. Liquid pass across and goes to outlet.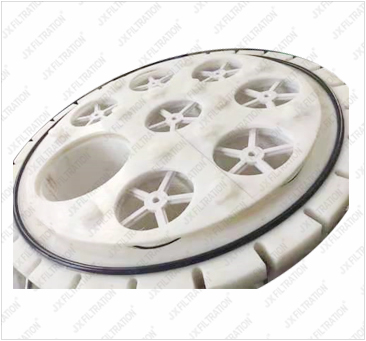 Technical Parameters
Model
Bag
Qty
Working
Pressure
(Mpa)
Max
Flow
(t/h)
Filtering
Area
(m2)
Filtering
Precision
(um)
Inlet/
Outlet
Material
Temperature
(℃)
JX-159PP-D
1(5#)
0.4
20
0.23
1-500
DN50
PP
5-65
JX-175PP-D
1(5#)
0.4
32
0.25
DN50
PP
5-65
JX-219PP-D
1(2#)
0.4
40
0.5
DN65
PP
5-65
JX-219PPR-D
1(2#)
0.6
40
0.5
DN65
PPR
5-90
JX-500PP-2D
2(2#)
0.4
90
1
DN100
PP
5-65
JX-630PP-3D
3(2#)
0.4
135
1.5
DN100
PP
5-65
JX-630PP-4D
4(2#)
0.4
180
2
DN100
PP
5-65
JX-710PP-5D
5(2#)
0.4
225
2.5
DN100
PP
5-65
JX-700PP-6D
6(2#)
0.4
270
3
DN100
PP
5-65
JX-800PP-7D
7(2#)
0.25
315
3.5
DN100
PP
5-65
JX-800PP-8D
8(2#)
0.25
345
4
DN50
PP
5-65
Advantages
Widely used in the solid-liquid separation of acid and alkali corrosive liquid.
The bottom of the filter adopts a slope design to avoid material waste.
Cylinder body is smooth and specious without any welded interface or joint.
Multi-functional bolt pitch: can be equipped with different standard flange.
SUS316 flange bolt rings: ensure pressure resistance and good seal performance.
Application
Fine chemicals
Agrochemical corrosive chemical materials
Pretreatment before seawater desalination
Industrial liquids and products
Food and vegetable oils, etc.
PP Bag Filter Housing
Related Product
PP Bag Filter Housing
Our Service
Professional Pre-sale
Service

Filtration method and
equipment recommendation

Free CAD or 3D
drawing provided

Free phone call

Complete Service
During Sales

On time delivery


Equipment inspection
by photo or video

Secure and standard
package provided
After Sales Service


Installation assist by
phone call or video

Free accessories provide
for maintenance

Engineer sent for
solving onsite problem
PP Bag Filter Housing
FAQ
Where is your factory?
We have three factories in Sichuan, Hebei, Jiangsu. Because the difference of customer locations, raw material price, factory wages and other considerations. In this way, we can provide the best quality product with lower cost.
Do you have a certification?
Yes. we have ISO/CE/BV/SGS/TUV certificate and patent certificate.
How about the delivery time?
Usually 1-15 days after prepayment is confirmed.
Do you have a design team?
Yes, we have. Providing drawing, electric drawing and others.
What is your payment?
T/T, L/C, Western Union, Paypal.
Can you provide certificate of origin?
yes, we can provide CO as well as FORM E, FOEM F and etc.
Can you accept OEM?
Yes, we could do OEM for you.
Can you send me a sample?
Yes.1-3 days for delivery.