Self-cleaning Filter Irrigation
Filtration precision ranges from 25 um to 4000um.
High efficiency, energy-saving and low water consumption.
Compact structure with small size.
No human intervention is required ideal for the production line.
Various install method for different industries.
Self-cleaning Filter Irrigation
Description
JX Self-cleaning Filter for Irrigation industry is motivated by the hydraulic system. We have AF-200 and AF-800 two series with filter precision ranges from 25 um-4000um to meet vertical or horizontal installation direction requirements.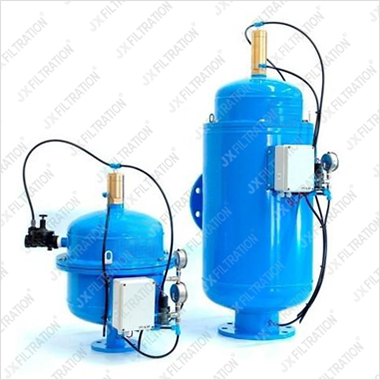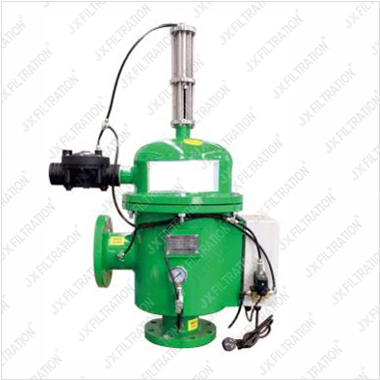 This kind of self-cleaning filter is mostly made of carbon steel coated with baked-on epoxy. The filter element is made by SS316L, which is durable for better filtration performance. The cleaning process could be controlled by pressure difference/ time/ manual.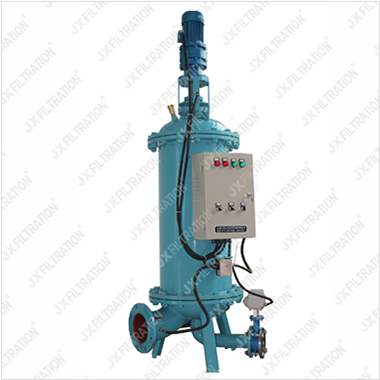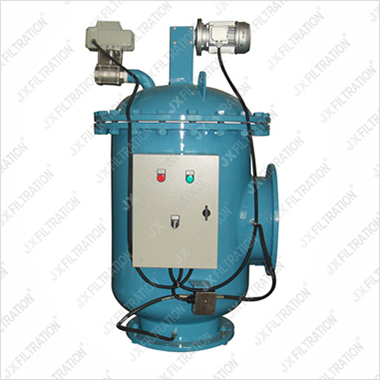 Best Factory, Best Product. Contact Now !!!
Working Principle
Filtration process:
Water enters the filter through the "Inlet" and passes through the coarse screen that functions as a "first stop" for rough particles. Water then reaches the fine screen , which further purifies the flow by separating smaller particles from the water. As more water flows through, impurities build upon the fine screen. As impurities on the screen accumulate, a pressure imbalance is built up between the internal section of the fine screen and its external section.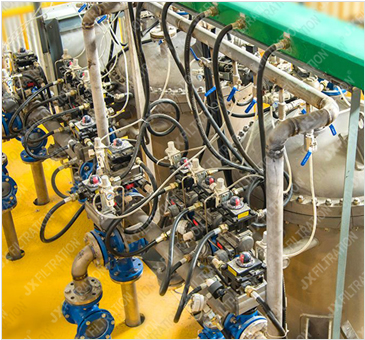 Cleaning process:
When the difference in pressure reaches the preset value on the electronic control unit, a series of events is triggered while water continues to flow to the system units. The flushing valve opens, the pressure is released from the hydraulic piston, and water flows outside. Pressure in the hydraulic motor chamber and the dirt collector is significantly lowered, and the dirt collector nozzles begin a suction process. The water flows through the hydraulic motor, which rotates the dirt collector around its axis. The pressure released from the piston and the high pressure inside the filter, cause linear movement of the dirt collector. The combination of linear movement and rotation significantly cleans the whole internal screen surface. The flushing cycle takes 5 seconds. The flushing valve closes at the end of the cycle and the increased water pressure returns the system to its initial position. The filter is now ready for the next cycle, with clean and filtered water flowing through the "Outlet."
Advantages
High standard wedge wire filter element with accurate precision and long service life.
Standard flange and connections to adapt to any production site.
Low water consumption for cleaning, less than 1% of total flow.
Fully enclosed design and automatic operation mean virtually no operator intervention of materials contact.
Easy to disassemble and cleaning and the maintenance costs are very low.
Application
Water Treatment
Industrial
Process Cooling
Chilled Water
Irrigation
Pre-filtration of seawater
Self-cleaning Filter Irrigation
Related Product
Self-cleaning Filter Irrigation
Our Service
Professional Pre-sale
Service

Filtration method and
equipment recommendation

Free CAD or 3D
drawing provided

Free phone call

Complete Service
During Sales

On time delivery


Equipment inspection
by photo or video

Secure and standard
package provided
After Sales Service


Installation assist by
phone call or video

Free accessories provide
for maintenance

Engineer sent for
solving onsite problem
Self-cleaning Filter Irrigation
FAQ
Where is your factory?
We have three factories in Sichuan, Hebei, Jiangsu. Because the difference of customer locations, raw material price, factory wages and other considerations. In this way, we can provide the best quality product with lower cost.
Do you have a certification?
Yes. we have ISO/CE/BV/SGS/TUV certificate and patent certificate.
How about the delivery time?
Usually 1-15 days after prepayment is confirmed.
Do you have a design team?
Yes, we have. Providing drawing, electric drawing and others.
What is your payment?
T/T, L/C, Western Union, Paypal.
Can you provide certificate of origin?
yes, we can provide CO as well as FORM E, FOEM F and etc.
Can you accept OEM?
Yes, we could do OEM for you.
Can you send me a sample?
Yes.1-3 days for delivery.