Volute Press
Description
Volute Press has a small size but complete equipment functions. It contains an electric control cabinet, a metering tank, a flocculation mixing tank and a dehydrator main body—the main body is composed of multiple fixed rings, gaskets and moving rings.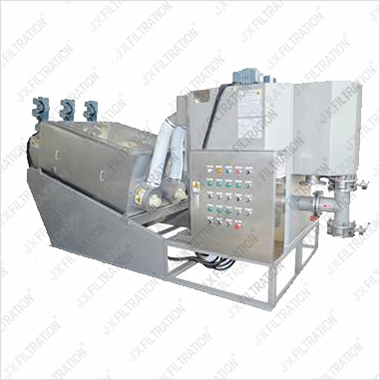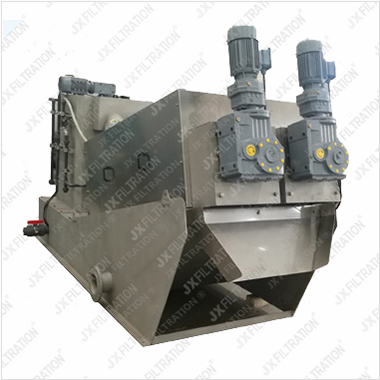 The screw shaft runs through to form a filter device. The front section is the thickening part, and the rear section is the dewatering part. Replace the traditional filter cloth and centrifugal filtration with a unique and subtle filter structure.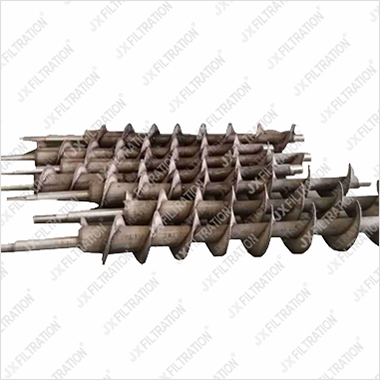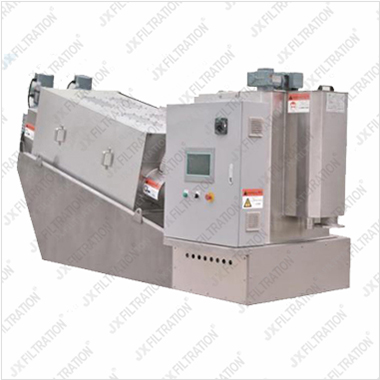 Best Factory, Best Product. Contact Now !!!
Working Principle
The volute press's main body comprises multiple fixed annular plates and moveable annular plates with the crew shaft running through it. The front part is a thickening dewatering department. It can thicken and dewater sludge in one box and has taken the traditional filter clothes and centrifugal filtration method for its distinctive filter model.
Sludge will be transported to the dewatering department after being thickened in the thickening department. In the advancing process, significant pressure has been produced because of the gradually decreasing filter spacing and screw distance and the back platen clogging. Then the volume decreases continuously, and the purpose of fully dewatering will be achieved.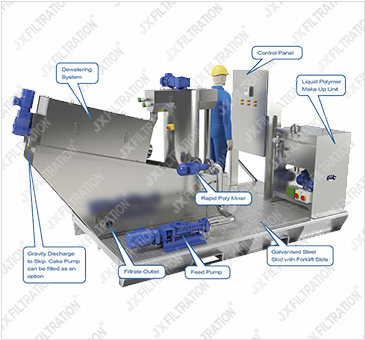 Advantages
Widely applied in various industries: Municipal sewage, food, beverages, chemicals, papermaking etc.
Suitable for the dewatering of high and low-concentration sludge.
When dewatering low-concentration (2000mg/L) sludge, no need to build thickening tanks and storage tanks.
No need to clean in order to prevent clogging of the filter slot and reduce the amount of flushing water.
Low-speed operation and low electric consumption: the rotation speed of the screw shaft is about 2-3 rpm.
Application
Municipal wastewater
Food
Beverages
Slaughtering and breeding
Printing
Petrochemical engineering
Paper making
Tannery
Pharmaceutical,etc.
Volute Press
Related Product
Volute Press
Our Service
Professional Pre-sale
Service

Filtration method and
equipment recommendation

Free CAD or 3D
drawing provided

Free phone call

Complete Service
During Sales

On time delivery


Equipment inspection
by photo or video

Secure and standard
package provided
After Sales Service


Installation assist by
phone call or video

Free accessories provide
for maintenance

Engineer sent for
solving onsite problem
Volute Press
FAQ
Where is your factory?
We have three factories in Sichuan, Hebei, Jiangsu. Because the difference of customer locations, raw material price, factory wages and other considerations. In this way, we can provide the best quality product with lower cost.
Do you have a certification?
Yes. we have ISO/CE/BV/SGS/TUV certificate and patent certificate.
How about the delivery time?
Usually 1-15 days after prepayment is confirmed.
Do you have a design team?
Yes, we have. Providing drawing, electric drawing and others.
What is your payment?
T/T, L/C, Western Union, Paypal.
Can you provide certificate of origin?
yes, we can provide CO as well as FORM E, FOEM F and etc.
Can you accept OEM?
Yes, we could do OEM for you.
Can you send me a sample?
Yes.1-3 days for delivery.